Complete Custom Branding
---
Your company has made an immense investment of time and money in your perfectly tuned brand. You've hired the advisors, paid the designers, and maybe even have full-time staff who focus on the mission of expanding the congruency of your brand throughout everything you do.
You love the Files.com platform and have made it a key part of your business. However, you want the Files.com app to feel like it belongs to your business. You want your customers to feel like they are sharing files with you, not with some third party. After all, what the heck is Files.com in their eyes?
"Brand consistency is the delivery of brand messaging in line with the brand identity, values, and strategy over time. Consistency means your target audience is being exposed to core messages, visual branding, and other brand elements repeatedly, which can help to solidify brand recognition."

– MerlinOne
Files.com lets you customize just about everything on the platform. To provide the look and feel of your business for all those interacting with your file sharing account you have options to customize all of the following:
Interface colors
Your logo and icons
Email notification reply-to address
Customize messaging
Custom forms
Header and footer text
Login page help text
Set a custom domain
Custom SMTP
Add your logo, create your own color scheme, utilize your own custom domain name, change the default language, and even customize system generated emails sent to your users. You can even customize our desktop app.
Create a white label experience for all your file transfers and workflows through the Files.com platform. You have the flexibility to customize your account to match your brand. Other sites allow you to pop in your logo and say that this is what branding is all about.
You know better and so do we!
Your logo will be seen on the Files.com interface as well as the login page and all folders. No mistaking what company clients are dealing with when uploading their files.
Icons allow your logo to be the favicon on the browser title bar and bookmarks, increasing the visibility of your brand in a tiny yet impactful way.
Once you've added your logo and icons to the account, the Files.com platform allows you to create your own color scheme for full association with everything that is your brand! Select your exact brand colors with the hex code.
Your logo and colors will not just be displayed for everyone when logging into the account, as well as when accessing public pages like inboxes and share links.
Imagine your business has come up with a top-secret recipe for a new sports energy drink that is going to revolutionize the industry. You've got all the i's dotted, and t's crossed. Now it is time to transfer this golden nugget to your new bottling partner. Which site would you feel more confident in uploading that recipe to?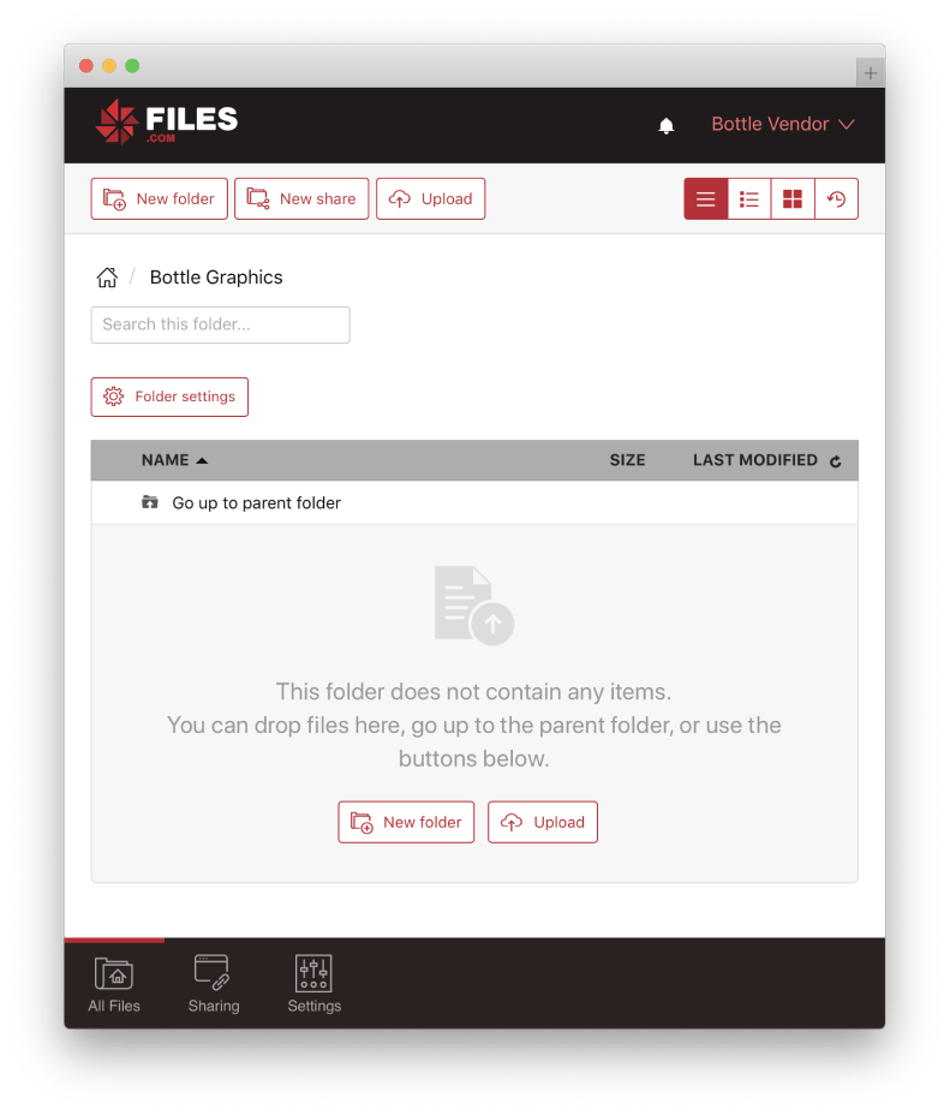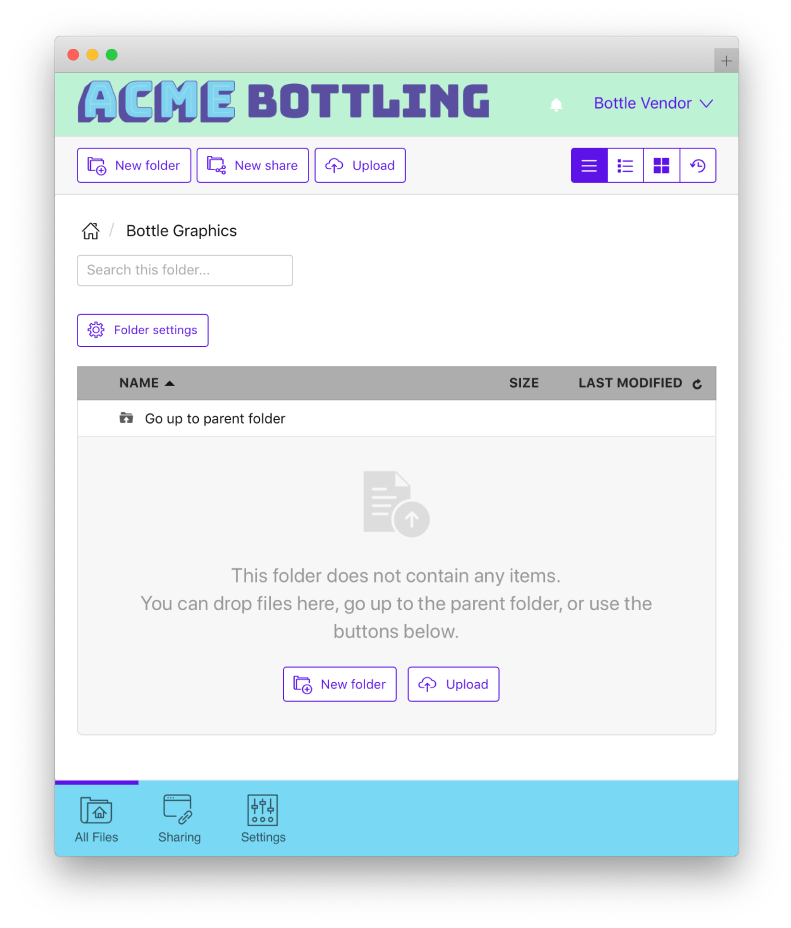 If you're going to put your brand in front of your customers interactions with our secure file storage and sharing platform, we think that it should touch EVERY part of the customer's experience.
As seen in the example above, a customized form makes a huge difference. The Acme Bottling upload form encompasses their brand in all the right ways.
The look and feel of your customized Files.com interface is key; however, true brand consistency should also include the message. Files.com integrates the ability to skin your site using one of the 7 most common languages.
Custom messaging includes the header and footer text, the login page help text, form fields, and some notifications. In addition, Enterprise customers can customize the text included on login forms and in new user welcome emails sent via your own SMTP server.
By default, emails are always sent from our servers from the address: no-reply@files.com. But that doesn't have to be the case because we think you deserve better. Plus, we all love customization!
For all Files.com accounts, the custom mail server setting allows you to specify a custom "reply-to" address that will be included in email notifications sent from your site.
Customers on an Enterprise plan can further enhance their users experience and enable this setting to use a custom SMTP server for all outbound mail. You'll have full control over the from address and integrating any existing email security technologies you use on your server.
Every customer automatically gets a customized subdomain, such as https://mycompany.files.com/ to use as their site URL.
We think that's a pretty sexy URL if we may say so ourselves, although we may be a bit biased. But you can increase your brand presence here as well with a fully custom domain.
A custom domain is recognizable to your organization and will show users your brand identity along with your logo. Our customizable platform makes it simple to host the Files.com platform under your own custom domain name. You may use any subdomain or domain that you control.
In a few steps you can take your site customization a step further and remove all traces of the Files.com branding. Add a quick CNAME entry and enter your custom domain name in the web interface, and you have Files.com perfectly integrated to your site.
We will even register and host a custom SSL certificate for you at no additional charge.
If you would like to discuss additional ways that we can assist you in branding your Files.com site, give us a shout. Our team is ready to make sure your data is empowered and branded to showcase what matters most -- your business.
Get Instant Access to Files.com
The button below will take you to our Free Trial signup page. Click on the white "Start My Free Trial" button, then fill out the short form on the next page. Your account will be activated instantly. You can dive in and start yourself or let us help. The choice is yours.
Start My Free Trial